Durban Warns It Could Take 15 Weeks to Clear Backlog as 60 Ships Wait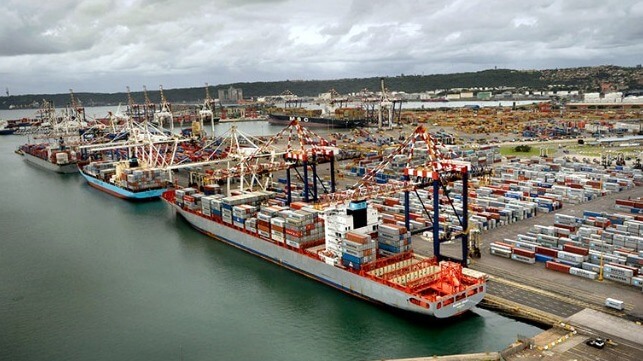 Port officials in South Africa are reporting it is likely to take until 2024 and possibly till February to clear the current congestion that has built up at the container port in Durban. Consistently at the bottom of port rankings for efficiency, Durban is facing a crisis with more than 60 vessels reportedly waiting offshore and importers now saying they will not have expected merchandise in time for Christmas.
"The problem of port congestion is a complex one and it is something that was due to happen at some point, as a result of many years of underinvestment in equipment and its maintenance," Transnet operator of the large container terminal at Durban wrote in a statement attributed to Board Chairperson, Andile Sangqu. "We need to caution that this is going to take some time as the lead times for some of the equipment is anything from 12 to 18 months," said Sangqu in a media briefing.
Carriers have been warning customers for weeks that the situation in Durban had reached crisis level with the operator in part blaming bad weather in addition to staffing levels and equipment failures. Maersk at the beginning of November imposed a congestion fee between $200 and $400 per container for boxes shipped to South Africa from destinations beyond East and West Africa. MSC Mediterranean Shipping Company followed suit with a similar congestion fee and CMA CGM announced at the end of last week it will also be implementing a Port Congestion Surcharge of $200 per TEU bound for Port Elizabeth, Durban, and Cape Town beginning in December. Maersk and other carriers have also dropped port calls and announced changes to their rotation.
Transnet says with 63 vessels currently anchored off Port Durban and 20 booked for the two berths at the Durban Container Terminals it will take weeks to clear the backlog. They are working to increase the volume at the larger Pier 2 from a pace averaging 2,500 TEU a day over the past four weeks to a target of as many as 4,000 TEU daily. The historical average has been 3,300 TEU a day.  Even with the increased pace at Pier 2, they warn into could be 15 weeks, which would be the beginning of February before they can catch up.
The situation is looking only slightly better at Pier 1. They are going to try to raise the volume from the current 1,200 TEU a day to 1,500 TEU over the next few weeks. They expect it could take seven weeks to clear the backlog at Pier 1.
Durban has consistently ranked low for port operations. The World Bank's 2022 report places Durban at 365 on a list of 370 ports. Transnet, however, cites weather as well as issues of equipment availability for the current problems. Ships are reporting the wait is three to four times the average time to offload in Durban.
The company says it is prioritizing the optimization of port operations and working to improve planning and forecasting leading to better anticipation of cargo volumes. Among the steps they are taking to address the slow turnaround times is increasing staff including a fourth shift. 
While saying it is an urgent intervention to address the backlogs, Transnet reports it will take time to obtain new equipment. They are working to repair and refurbish critical port equipment but said it will last till August 2024. They are buying 16 gantry cranes for delivery by the second half of 2025 and four ship-to-shore cranes for delivery in FY 2025-2026.
Similar delays are reported to also be building at Richards Bay, which is the large breakbulk port for the mining industry. Transnet said it will be conducting an emergency meeting with port officials and the industry on Tuesday to work on a plan to address the problems at Richards Bay.